Solutions for Real People with Real Acne! UPDATED
Y'all. I am so flipping tired of beauty bloggers that recommend products for trouble skin when "trouble skin" for them is one rogue zit that one week of the month. YOU DON'T KNOW MY LIFE, WOMAN.
People ask me about my skin and makeup because I get on video a million times a week. If you're an OG KH frand, you know this has been an ongoing struggle for me and I always use #allthefilters when posting on Instagram, and I am honest about that. So, you can trust that this list is for realsies.
My Skin
YOU KNOW IT'S REAL LOVE WHEN I POST A PIC OF MYSELF LIKE THIS ON THE INTERNET FOR YOU. DEEP, REAL LOVE.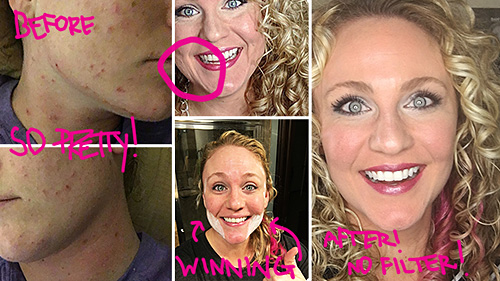 I went on Accutane twice in my teens, I have seen basically every cream and facewash and mask that's out there. I have severe sun damage and if that's not enough, eczema, even on my face, leaving patches of skin with no pigment. So much win. I am now at that lovely point in life where I have to deal with the start of "fine lines" AND zits. But if I use the wrinkle cream I'll break out and if I use the zit cream I'll dry up and look like a paper mache me made out of sandpaper ahhhhhh.
Thanks, Lord, this time of life raising tiny humans wasn't hard enough. Preciate it. In October of 2017 my face was a disaster, as you can see above, and now, January 2018, it is amazeballs. Here is what worked.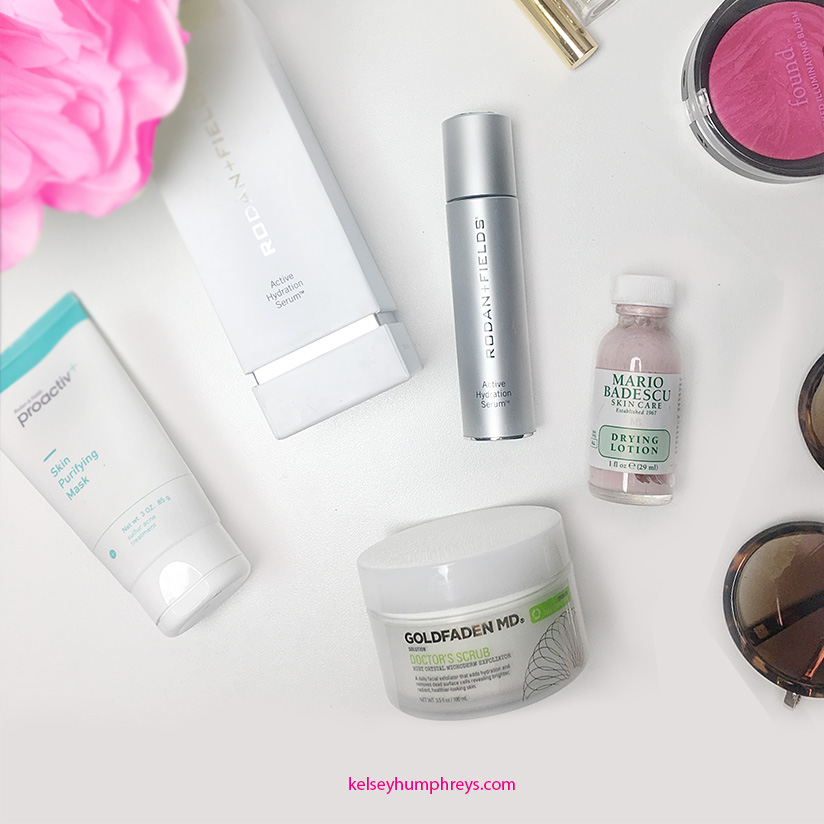 Spironolactone (not pictured)
I really really didn't want to get on a prescription, but video is my job. I knew that my face was distracting me during videos, keeping me from making videos, hurting my confidence and more. So, I went to my doc and she was like let's just do Accutane again and I thought ARE YOU INSANE? Maybe she did that on purpose so I'd be like Spiro! Cool! This is a prescription testosterone blocker and I will warn you that it makes you pee more and I felt like it caused lethargy. After all, testosterone is the get up and rip the day's face off hormone. So I only take a half dose, one in the morning. It took about 4 months to kick in. Now I don't feel the side effects, so I do recommend this if things are getting so bad it's time to go to the Doc!

UPDATE: I am off of Spironolactone thanks to Keto. AND if I have the tiniest bit of bad carbs - read, pizza - I will break out. Sugar isn't as bad for me as flour. Dairy is also not as bad. But when I'm committed to no sugar and less than 20 grams of carbs a day, my skin is like GLOWING BABY BUTT YALL. 

Mario Badescu Spot Treatment
This stuff comes in a TINY bottle for $17 and it's worth every penny, why? Because it dries out big ol honker zits overnight, without leaving a dry scabby situation behind. If I weren't married I'd ask Mario to marry me, this treatment is that good.
Rodan & Fields Active Hydration Serum
I am not all RF All Day like some, there have been products I've tried with high hopes that didn't work, including their Unblemish system and Redfine system. But this stuff made my skin feel different literally the next day after I tried it. Not kidding. Suddenly my forehead was starting to look like innocent baby butt again. Amazing.
Goldfaden MD Microdermabrasion Scrub
This scrub is life. I would only recommend using it after your skin is starting to clear up. Basically it left my skin feeling like a pillow cloud, and I could tell it was clarifying my skin as well, because that eczema spot started to really become obvious, because my overall skin tone is so much clearer I can see the differences more clearly.
Alba Botanica Calming Mask (not pictured) 
You picked your face to death, then you wore a different cream each night, then you got dry spots. Time to CALM DOWN. This is the best calming mask. I bought a tub of expensive stuff you keep in the fridge, filled with rainbow dust and cucumber guts, this cheapo one is better, grab it on Amazon, thank me later! 
Honorable Mention: I live in this Proactiv Skin Purifying Mask mask sometimes, and it really does help clear things up overnight, and leave my skin feeling soft, HOWEVER it sometimes leaves behind a dry scabby mess which I then pick and scratch to death because I have a problem and I can't stop myself. So I am using it less because I realized even though it worked in the short term, I would pick and my fight those red spots would last a week or more. If you're NOT a picker, get this mask for sure! If you are, use at your own risk.
Honorable Mention: Keto diet, maybe. Some say keto (eliminating sugar and flour, eating a lot of fat and some protein, less than 20-30 grams carbs per day) can clear up your skin. I can't be 100% sure that keto is contributing, because I also used the products above, but many articles claim sugar is bad for your skin and healthy fats are good for your skin, sooooo.... (SEE UPDATE ABOVE. IT WORKS. and if you fall of the wagon, so will your skin.) 
I'd love to know if you try these products and they help you, because I understand how hard it is to live with acne, especially when you're not a teen anymore, and especially especially if you want to be active on livestreams and instagram and build your brand or business with video.
If you're in the thick of skin hell, I recommend full coverage makeup, amazing ring lighting, low res images with filters, and sitting on your hands or getting bubble wrap or SOMETHING so you don't pick. Sometime soon I'll post a make up post but until then, remember it's who you are and HOW YOU MAKE PEOPLE FEEL that matters, if you're spreading your sparkly butterflies of love with people and being your best self, they will forget all about the small mountain range on your skin. Promise.
Disclaimer: Ya'll know the drill: Some of the links in the post above are "affiliate links." That means if you click on the link and purchase the item, I will receive an affiliate commission. That's why I only recommend products or services I use personally and believe will add value to your life! I am disclosing this in accordance with the FTC's 
16 CFR, Part 255