How to Make It In the Competitive Industry of Show Business
I was really nervous about this one. Kathy Griffin is a comedy legend, but she's not necessarily known for being nice. Which is a shame, because it turns out with me, in person, she was really nice! She was so warm and fun and open and honest and she even prepared notes about her comedy empire and different aspects of her business for our interview. Isn't that crazy? She prepared notes for me?!  I was floored. Griffin came from behind and made it big in not only a fiercely competitve industry but a male-dominated one at that. If you're an entertainer or writer or trying to build your personal brand, you'll really enjoy her lessons for us!
If you loved this interview, be sure and let Kathy know on twitter!
For more information on Kathy, visit KathyGriffin.net.
In this episode, you'll learn:
When Kathy felt ready to start her entertainment career (7:01)
How Kathy started to build her personal brand (8:45)
About Kathy's writing process (14:57)
How Kathy chose the people to have join her team (28:13)
Kathy's number one piece of advice for aspiring entertainers (35:20)
---
LISTEN ON THE GO
Enjoy listening? Subscribe in iTunes or Stitcher to automatically get the latest audio episodes of The Pursuit sent to your smart phone!
---
YOU WANTED TO KNOW…
Why did you choose to have Kathy as a guest?
I love comedians because they can teach us so much about hustle, speaking, and writing. Plus she built her career when there were very few female comics and I knew she was passionate about that and would make an interesting guest.
How'd you get the interview?
I pitched her publicists, specifically because her new book was coming out.
What was she like?
Hilarious of course, but also so humble and down to earth. I honestly feel as though I could reach out to her and ask her to lunch the next time I'm in LA, because she was that warm, and she's that passionate about women mentoring other women. We'll see if I have the guts to do actually do that, though!
Where was the interview?
Her publicist's office in NYC. Her publicist is the CEO of PMK*BNC. This was a HUGE win for the show in terms of making a connection with a publicist. I hope we did well enough that we'll be able to interview more of their celebrity clients.
Did she have a posse there? How big is her team?
Yes, multiple publicists, a make up artist, and a hair stylist. As far as her staff, she only has one assistant and her boyfriend/manager.
Most unexpected thing about Kathy?
SHE prepared notes for me. A 56-year-old icon in the industry, prepares for every single interview to make sure that the interviewer has a good time, because she knows the hosts interview all day long. I mean wow. THAT is humility.
What went wrong?
We ran out of time. We spent a lot of our time adjusting the lighting and making sure everything was "just so" for all the publicists.
Did you hear anything from her after the episode was published?
She retweeted me! Score!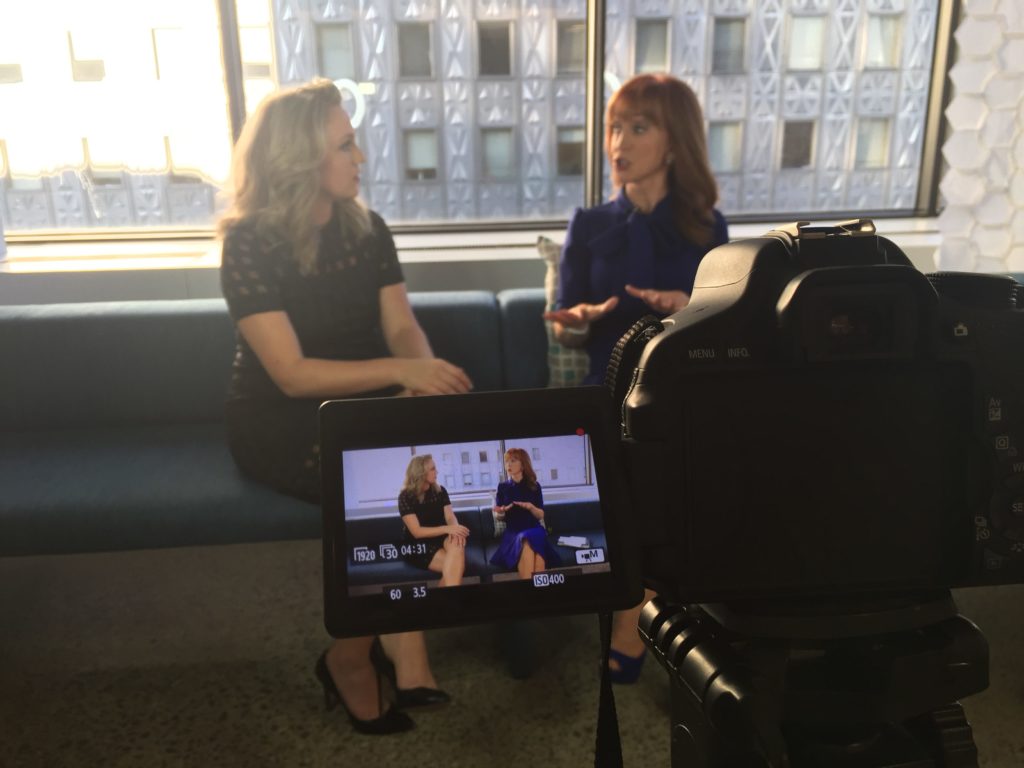 ---
Mentioned in the Episode:
---
Pin & Post These Awesome Quotes from the Interview
---
Support with A Share!