How to Grow A Successful Online Business Crazy Fast
Kimra Luna is a teacher. She is also a mom, a wife, a vegan, a new New Yorker, and a passionate leader of a her community of "Freedom Hackers." Even though she has done some amazing marketing and community building, you can see how she is a teacher first in this interview, as she breaks her success - zero to almost 1 million in sales in her first year - down step by step in detail. If you want to grow an online business or grow a large online community, you'll love this chat from her chic Manhattan apartment.
If you loved this interview, be sure and let Kimra know on Facebook - be sure and tag Kimra and Kelsey's Public Pages so they see your post!
For more information on Kimra, visit KimraLuna.com.
In this episode, you'll learn:
How Kimra was able to use Facebook groups to create a following (5:42)
The two things that happened after Kimra's forst Pinterest training class (8:55)
At what point Kimra and her husband decided he should quit his job (13:40)
How to cultivate a highly-devoted fan base (16:01)
How to have success with webinars in a saturated market (22:45)
One piece of advice for creating an online business (23:44)
---
LISTEN ON THE GO
Enjoy listening? Subscribe in iTunes or Stitcher to automatically get the latest audio episodes of The Pursuit sent to your smart phone!
---
YOU WANTED TO KNOW…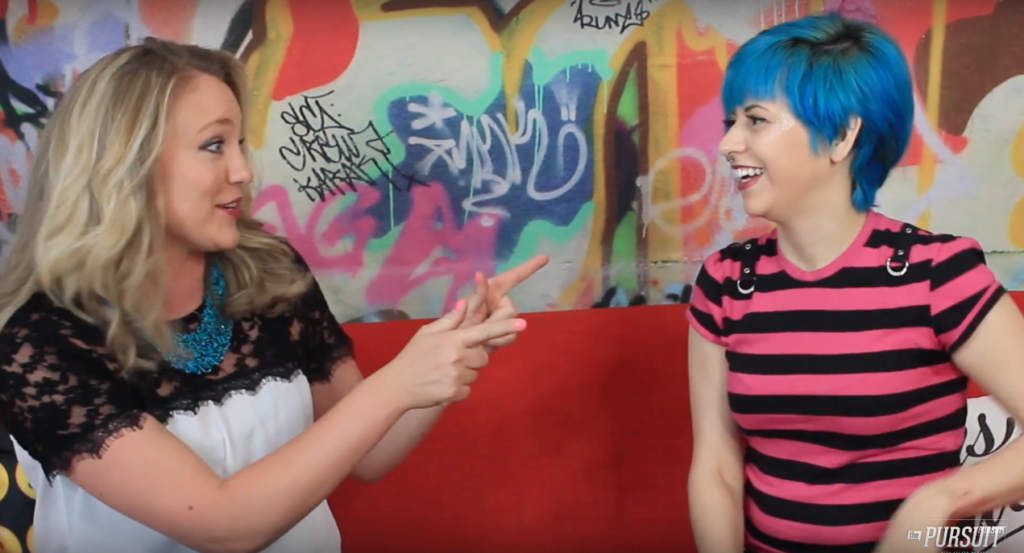 Why did you choose to have Kimra as a guest?
She has had amazing growth (and made millions) in just a couple years, and her fans are rabid. Also she is based in New York so that was convenient.
How'd you get the interview?
I sent her a Facebook message!
What was she like?
Very real, an open book, I feel like I could have asked her anything and everything and she would have answered without skipping a beat.
Where was the interview?
Her killer Manhattan apartment!
How many are on his or her team? Did they have a posse there?
She has multiple nannies, a chef, a house cleaner, and then I know she has a few virtual staff members. Her husband also works in the business.
What did she ask or talk about before/after the interview?
She was still getting her makeup on so we talked a ton, I don't remember it all!
Most unexpected thing about Kimra?
Not much, she does so much live streaming and video content that I felt like I knew her beforehand and she was the same in person!
What went well?
We covered a lot really fast, and she was detailed.
What went wrong?
Wellll, quite a bit. I didn't have a videographer so we had to pause every 10 minutes for me to reset the cameras. This was my second or third shoot that day, and one of the cameras died and I didn't have backups with me. And the shot that I set ended up being way off center! You can't tell most of that in the end result, however, and she was cool about it.
Did you hear anything from her after the episode was published?
She didn't say anything but she did share it with her community so I think she was happy with it!
---
Mentioned in the Episode:
---
Support with A Share!