Have you ever invested a lot of time and energy into a project, brand, (thriving business, entire career) and then realized - gulp - it's not for you? Rebecca Louise went through that too and you will love her story. Now she is a successful nutrition coach and fitness entrepreneur. She's also a YouTuber who has gathered over 400,000 subscribers and 46 million views on her channel in less than three years (yes, I'm a little jealous it's fine!) Her online empire includes a team members, a fitness subscription biz, her own mobile app and online courses and products. She's also led a tour of live workshop and has been featured in tons of publications. 
If you know you're entrepreneurial and have tried multiple passions so far, watch and enjoy hearing how Rebecca Louise finally found her calling (and her massive success) - plus just enjoy her awesome accent!
In this episode, you'll learn:
How to adapt when making a big change (8:26)
Tips for handling massive growth (14:02)
Why persistence pays off (21:42)
Health advice from Rebecca-Louise herself (25:58)
Kelsey's Keys to Success (27:06)
Kelsey and Rebecca Louise play Fast Facts (31:21)
---
Listen on the Go! (podcast audio coming soon)
---
If you enjoyed this interview, be sure to screenshot and let us know on Instagram (@rebeccalouisefitness and @thekelseyshow)  
---
YOU WANTED TO KNOW...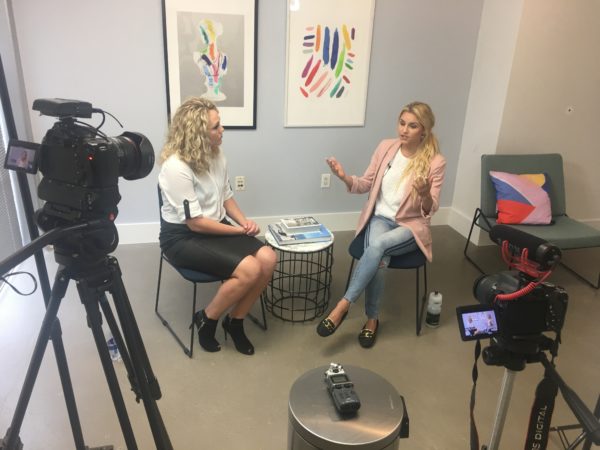 Why did you choose to have Rebecca as a guest?
I loved her unique journey and really fast youtube success.
Where was the interview?
In a rented room in Hollywood. Hollywood guys!
Who was with her?
She had one assistant with her
What was she like in person?
So chill and fun and SO. MUCH. ENERGY.
Did anything go wrong?
We had a miscommunication on the time so she had to sit and wait for about an hour, I was mortified but she was totally gracious about it! Also one of the mics failed because that is the story of my life.
---
Mentioned in the Episode: