Thoughts from My Interview Gary Vaynerhcuk
It's fitting that my first post back on my blog - to be distributed on Medium - highlights a lesson I'm learning from Gary Vaynerchuk, Medium investor and advocate. For one thing, he told me to market my show using Medium, and when Gary tells you to use a tactic in your marketing, you do it.
After all, this is the guy who built the brand of a brick and mortar wine business on YouTube, when youtube was still in his infancy. He was a Snapchat advocate before most of the world knew what Snapchat was. Take a look at his investment portfolio and it's obvious the man has a gift.
When you sit down with someone and chat exegetically, it's a real peek behind the curtain, in my opinion. 
I think that's why I've always loved watching interviews and now conducting them. There is no editor to perfect the phrases, no scripts or teleprompters. I've been surprised a few times with my celebrity interviews, sometimes the person's home or office is not what you'd think, sometimes they are warmer than you expected, or colder, funnier or more serious, different from their public persona. Even though you've read their work, even though you've watched their videos, there's magic about being with them on their home turf, which is one of the things I love about my show.
Sitting down with Gary, three things are evident.
First, this man is a sort of genius. I say this as fact not flattery. I got the same impression when I interviewed Seth Godin. There are just things he sees that others can't. There are things he has in his DNA that cannot be taught, as sad as that is for us aspirers.
Second, this man is a lover. Not what you expected me to say, right? This guy, once you get past the expletives he likes to lace his rants with, is one of the most caring people I've met at that level of success. He tells his employees "I love you" and makes facetime for all 600+ of them. He is also one of the most engaged and responsive celebrities online, often responding to fans personally, more than once. Sometimes his message is one of tough love, but that's because he truly wants marketers, entrepreneurs and small business owners to "get it." Again, something that's not easily taught.
But lastly, and most importantly, this man is a practitioner. He is working 18-hour days, executing, trying, planning, meeting, grinding, creating, and yes, hustling. His talk is as big as his walk, as evidenced by DailyVee, his new docureality YouTube show. This trait, though, gets me excited because unlike his innovative genius, anyone can develop his habit of execution. If you're a GaryVee fan, you've heard him say "Ideas are shit. Execution is the game." I first heard that years ago and it was an eye-opener for me.
But hear me say what I think is the one thing you shouldn't miss today.
Gary — though it may seem like it — is not preaching that everyone work 18 hour days. He's passionate about working hard and long, yes, but in relation to the kind of goals he hears his audience talk about. If, like Mr.Vee, you want to buy a 2.6 Billion dollar organization, you better be putting in 18-hour days. If you want to run a million dollar business, you hustle different than someone who runs a 300,000 business. A mom who is hustling to get to work from home has a different level of work than a mom who wants to build an empire with hundreds of employees. A guy who wants to become the top salesman in the country is going to have a different level of the hustle than the guy who wants to be the best at his company. All of these endeavors are worthwhile.
No dream is too big or too small, as long as you're wiling to put in the appropriate amount of work. 
Most of us either don't fully know the work involved to achieve our dreams, or we have fooled ourselves into thinking we can somehow take a shortcut. Listen, I want you to achieve your amazing goals, and I belive Gary Vee does too. The only way that will happen is if your actions are as big as your dreams.
Ask yourself today, is your hustle as big as your end goal? Are your actions as massive as your dreams?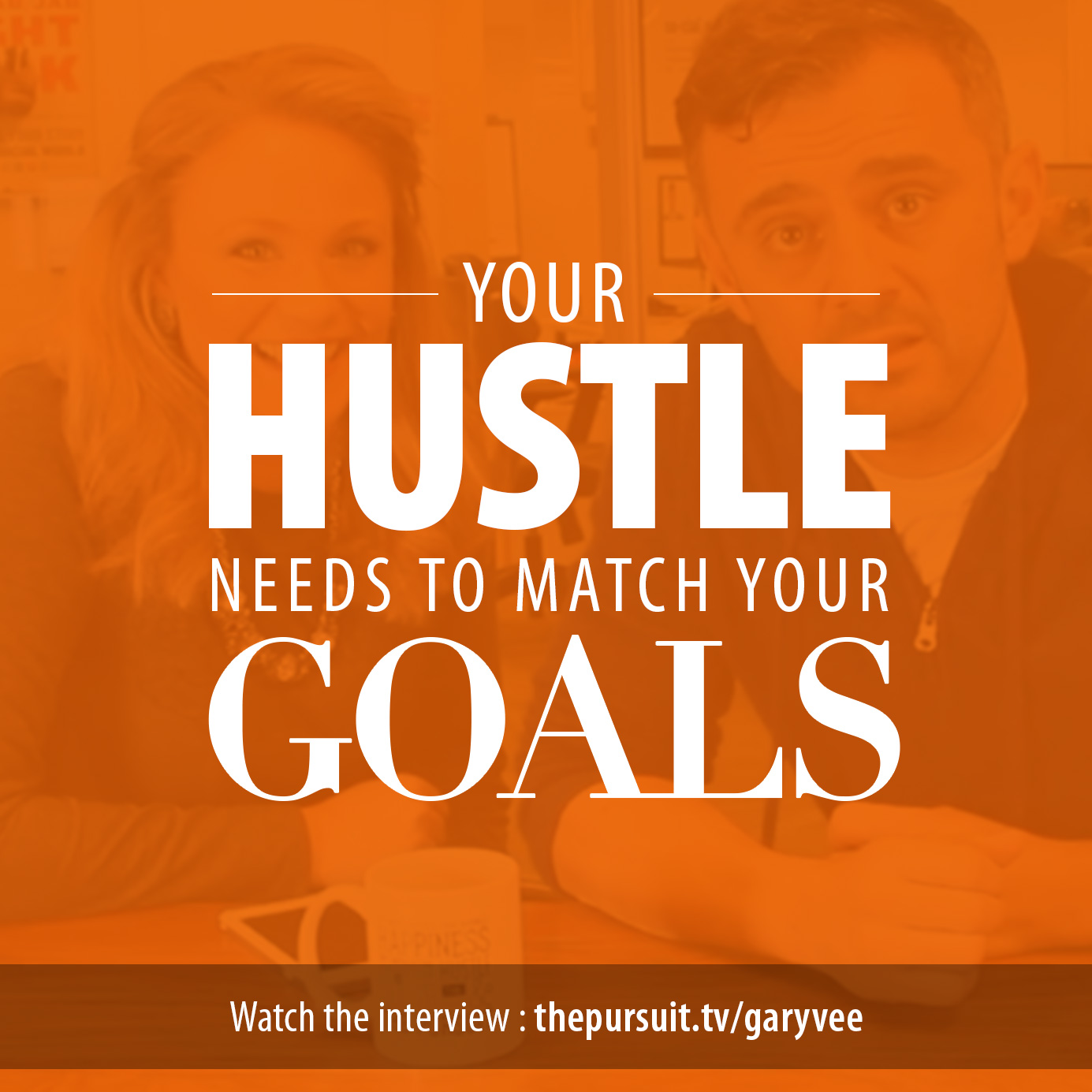 I want to take my show to mainstream television within the next few years. It's lofty, I know. So, as Gary said, I'm "schlepping my husband around the country" making this happen. I work long days and invest a lot of time, energy and money into this dream of mine. Still I'm haunted, am I hustling enough? Are my actions large enough for this towering dream?
Only time will tell, but I'm pumped today because unlike some traits and tactics these massively successful use, hard work is accessible to me. Hard work is something I can do. It's something you can do. That's what I call an inspiring and important reminder about success for the rest of us.
If you liked this post, please head on over to Medium, and hit the heart at the bottom of the post, which will help more people see the story. Thanks for reading!