A LITTLE DITTY FOR JANUARY
I said to myself, "Self, I want to do something fun and motivational for my peeps for January. I wonder how many inspirational songs I could mash together in a video under 4 minutes?" ...THE ANSWER IS SEVENTEEN! Holy Macaroni.
Song List
Gonna Fly Now
Roar
My Shot
Worth It
It's My Life
Fight Song
Don't Rain on My Parade
Titanium
Survivor
Tubthumping
Defying Gravity
I'm on top of the World
Bodak Yellow
We Are the Champions
All I do is Win
There's Nothing Holding Me Back
This is Me (from Greatest Showman) I just had to! It was sort of the theme throughout with the "ohs" 
❤️
---
Listen to the MP3 on the go!
Download the song or stream below:
Enjoy listening rather than watching? Don't forget to subscribe to my podcast via iTunes or Stitcher to automatically get the latest audio audio versions of Quick Pep Talks and episodes of The Pursuit sent to your smart phone!
---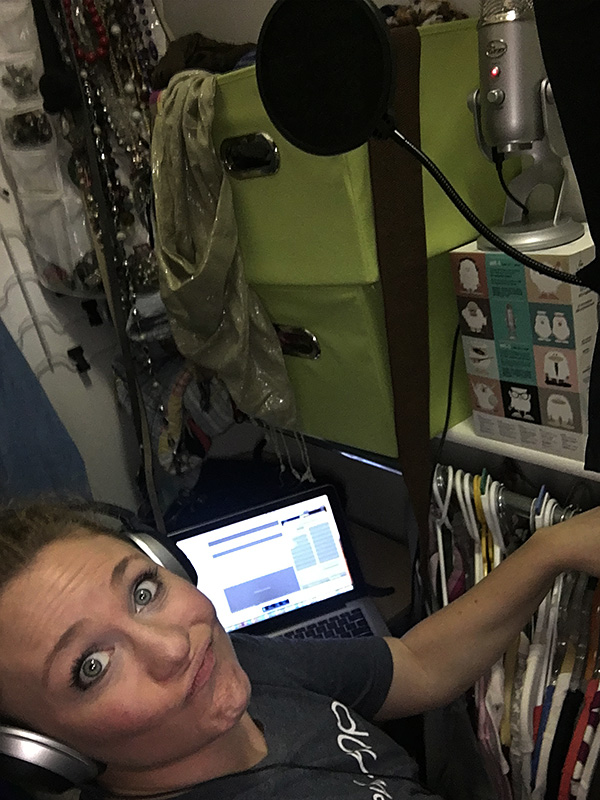 This project took me about a week, but I started dreaming it up in December.
First week of January, research motivational songs.
Take key lyrics from all the songs and put them in one google doc.
Start to piece together lyrics in a way that makes sense, but also listen to the songs to see if the musical transition will work.
Get in my closet with my laptop and my microphone and sing through the main melody all the way through as a guide. Some day I will have a real life studio and a sound engineer and it will be amazing!
Add metronome tracks
Start adding in all the parts, one song at a time, usually starting with oohs and aahs and the bass line
Listen through all the songs again to hear more countermelody parts to put in
Sing through and add the real main vocal again
Listen to it about one billion times to try and mix it and perfect the transitions.
Here's an actual screen shot of this file!

Export track to mp3 and get my white wall set up and Ring Lights in my tiny home office.
Record the video parts. This is hard and I don't do it very well yet, because you have to listen and really remember each part and lipsync only that part and I always get them jumbled up!
Then I edit each video part to perfectly match up with the mp3
Then I add each part into the video one at a time, matching up the videos to both eachother and the mp3. It's exhausting and definitely my least favorite part.
After the video is put together I add the lyric captions manually. Again, tedious and not fun!
Export and post to Facebook & YouTube
Hyperventilate nervously in the corner hoping people enjoy it and share it.
The end!
If you love these videos, definitely let me know in the comments on the Facebook post because as you can see they are a lot of work! (But I do love them =)
For licensing/usage of the video please contact hello@junglelicensing.com
Disclaimer: Ya'll know the drill: Some of the links in the post above are "affiliate links." That means if you click on the link and purchase the item, I will receive an affiliate commission. That's why I only recommend products or services I use personally and believe will add value to your life! I am disclosing this in accordance with the FTC's 
16 CFR, Part 255